Welcome to sde.sksu.kz
No front page content has been created yet.
Congratulations to the 500 Scientist Grant Winners!
Based on the decision of the Republican Commission for training personnel abroad dated June 22, 2023, 10 teachers of the South Kazakhstan University named after M. Auezov became the owners of grants under the program "500 scientists" for scientific internships in leading foreign universities and research and production centers
Auezov University signed a memorandum with Xi'an University of International Studies
Mukhtar Auezov South Kazakhstan University has successfully completed negotiations with Xi'an University of International Studies, during which a memorandum of cooperation was signed. This document is aimed at strengthening international relations and establishing a long-term partnership.
Important aspects of the discussion were opportunities for the development of academic mobility of students, internships for undergraduates and doctoral students, exchange of experience with teaching staff, as well as joint research projects and integration into international academic initiatives.
This cooperation provides unique opportunities for students, undergraduates, doctoral students, teachers and researchers of both educational institutions, improving their opportunities for professional growth and scientific work.The main purpose of the visit is to establish comprehensive cooperation and exchange of experience between the parties in accordance with the memorandum on the establishment of mutual partnership signed between the cities of Shymkent and Xi'an during the visit of the President of the Republic of Kazakhstan K.K. Tokayev to the People's Republic of China.
Also during her trip to China, Auezova got acquainted with the work of Xi'an Medical University.
Visit of the Consul of the Consulate General of the Republic of Uzbekistan (RU) in Almaty to the M. Auezov South Kazakhstan University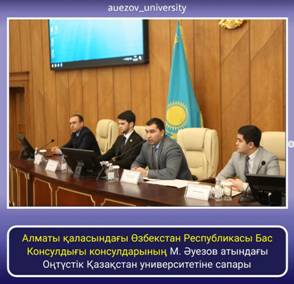 On February 15, 2023, a delegation headed by Consuls of the Consulate General of the Republic of Uzbekistan (RU) in Almaty, consisting of a representative of the World Youth Association of the Republic of Uzbekistan in Kazakhstan-Farkhodjon Ganiev, Consul for Migration Issues of the Consulate General of the Republic of Uzbekistan (RU) in Almaty-Asror Izzat, Consul of the General Consulates of the Republic of Uzbekistan (RU) in Almaty - Abdukarimov Zhamoliddinhuji and Assistant Ambassador of the Republic of Uzbekistan to the Republic of Kazakhstan-Tursunov Zhavokhira.
COURSERA - Is it possible to study for free and what can I get from the courses?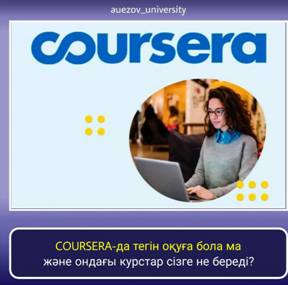 Coursera educational platform offers more than 3000 courses where you can study mathematics and logic, languages, social sciences, programming and much more. You can also get a free education here through Coursera Plus.
Global community
The courses are taught by experts from leading universities and companies. After studying, you can get a diploma recognized all over the world.
Accessibility
You can take hundreds of free courses and start with a free trial of Coursera Plus.
Flexibility
You can receive lectures on demand for both desktop and mobile devices and read them at a convenient time for you.
Employment opportunity
You acquire the career skills necessary for employment, as well as develop personal and professional skills through applied training.
https://www.coursera.org/